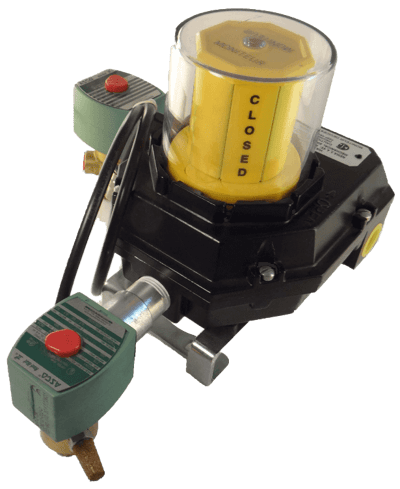 Images are representations only.
Flo-Tite's Dribble Control Systems effectively converts a ball valve into a two stage shutoff valve for the exact measurement and filling of ingredients required in batch processing.

Flo-Tite's DC two stage system is a complete unit consisting of one (1) limit switch, (1) 3-way solenoid valve, (1) 2-way (normally open) solenoid valve, and a fail safe actuator.

Factory assembled and tested.
Features
Reduces the flow rate at a given point during a filling operation, giving you the ability to more accurately and efficiently fill a vessel.
Assemblies are available in NEMA 4 & 4X (DC4) and NEMA 4, 4X, 7 & 9 (DC7)
Flow dampening- With the two stage package, valves can be partially closed and then completely closed gradually. 


This dramatically reduces shock (water hammer) to piping system and valves.

Occupies minimal space and eliminates costly bypass piping assembly.