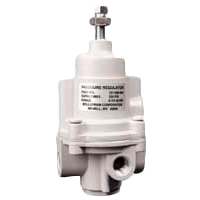 Images are representations only.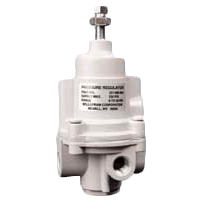 The Type 40 Air Pressure Regulator is a reliable adjustable air pressure regulator, designed for instrumentation and general purpose use.

Test data for the Type 40 shows excellent performance characteristics in such areas as regulated pressure vs. flow, forward-to-reverse flow offset, supply pressure sensitivity, repeatability and stability, among others.

Careful design and selection of quality construction materials throughout ensure long, trouble-free operation, including diecast aluminum housings, finished with scratch- and weather-resistant vinyl paint.

A rubberized, soft-seat valve stem provides positive shut-off and "forgives" dirt or other foreign matter.

An aspirator maintains downstream pressure and compensates for droop when high flow occurs.

The gauge port is convenient for gauge installation and can also be used as an additional full flow outlet. In addition, an integral 60-mesh 304 stainless steel screen blocks foreign particles from entering the output stream.
Features
Sensitivity: 1″ Water Column (2.5 cm). 
Superior Air Pressure Regulation. 
Rugged, Corrosion Resistant Construction. 
Low Cost. 
Excellent Stability and Repeatability. 
Self-relieving. 
Low Droop at High Flow. 
Multiple Mounting Options. 
All Units are Pressure and Leak Tested Prior to Shipment.
Specifications
Flow Capacity at 100 psig (6.9 bar) Supply and 20 psig (1.4 bar) Outlet
Effect of Supply Pressure Variation (25 psig / 1.7 bar) on Outlet Pressure
Less than 0.2 psig (0.01 bar)
Exhaust Capacity 5 psig (0.35 bar) Above 20 psig Set Point
0.1-0.45 scfm Typical 2.8 - 12.7 LPM
Effect of Changes in Flow on Regulated Pressure (100 psig / 6.9 bar Supply)
2 psig over flow of 10 scfm / 283 LPM (0-30 psig / 0-2.1 bar Range 1/4 NPT, 20 psig / 1.4 bar Set Point)
Output Pressure Ranges
0 to 120 psig (0 to 8.3 bar)
0 to 60 psig (0 to 4.1 bar)
0 to 35 psig (0 to 2.4 bar)
0-10 psig (0-0.7 bar)
Temperature Range
0° to 160° F (-18° to 71° C)
Total Air Consumption at Maximum Output
Materials of Construction
Spring: Music wire
Knob: Phenolic Plastic (Option)
Diaphragm: Buna-N Elastomer and Polyester Fabric
Trim: -Plated Steel, Brass, Acetal Resin
Adjusting Screw: -Plated Steel
Body: Die Cast Aluminum with vinyl Paint
Air Chucks
Air Spray Guns
Air Cylinders and Actuators
Industrial Pneumatic Systems and Equipment
Pilot-operated Controllers and Instruments