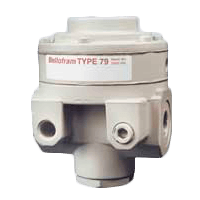 Images are representations only.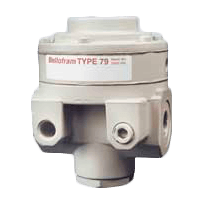 Type 79 1:1 ratio high-flow precision pneumatic (air) relays are designed for applications where precise flow control is required.

The Type 79 can achieve flow rates of well over 200 SCFM (5,695 LPM).

Use of a balanced pintle design allows the Type 79 to accurately control output pressure over wide flow and supply pressure variations, while minimizing output changes caused by supply fluctuations.

A high relieving version, the Type 79HR, is also available, offering 25% additional exhaust capability.

A rugged design offers low droop, high accuracy and fine adjustment sensitivity. Use of a patented Bellofram rolling diaphragm provides greater sensitivity and improved accuracy, ensuring long, trouble-free operation over millions of cycles.

Die-cast zinc and aluminum housings are pressure tested to ensure safe operation, along with chemical conversion coating of all cast components and a vinyl paint finish, facilitating use of the Type 79 within harsh and abusive environments.

A version of the Type 79 for valve control applications, the Type 79V, is also available.

The Type 79V utilizes soft exhaust seats to minimize air consumption, increased dead band to ignore valve oscillations, and an integral bypass valve that can be 'tuned' for optimum valve response. This relay can be pipe or bracket mounted.
Features
Balanced Pintle. 
High Flow Capacity. 
Field Serviceable. 
Large Port Sizes Available. 
Air Piloted or Dome Loaded. 
200 psiG Output. 
Optional High Relieving (Type 79HR) and Valve Control (Type 79V).
Specifications
Port Size
1/8" NPT
1/2" NPT
3/4" NPT
1" NPT
Set Point Range
0 to 13.8 bar
0 to 200 psig
Clutch & Brake Controls
Gas Flow Control
Cylinder Bucking Control
Tension Control
Dancer (Calendar) Roll Loading
Volume Boosting
Valve Motor Loading