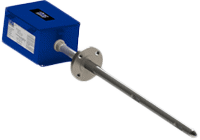 Images are representations only.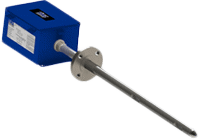 K-BAR 2000B-WGF multipoint insertion flow meter is engineered specifically for wet stacks, condensing gas environments, and biogas applications.

The K-BAR WGF processes the dry flow signal independent of the effects of moisture in the process gas stream.

K-BAR 2000B-WGF flow meters have effectively no impact on the flow stream, proven high accuracy, and are highly economical for both initial and maintenance costs.
Features
Steel, 16 gauge (Type 4, IP65) polyester powder‐coated enclosure
Two optically-isolated loop-powered 4-20 mA outputs
One 4‐20 mA non‐isolated analog input
Two optically isolated solid‐state relays / alarms
Two digital inputs dedicated to purge or zero‐mid‐span drift check
Built-in zero-mid-span drift check
Velocity-dependent correction factors for flow rate
Built-in flow totalizers and elapsed time
User‐configurable digital filtering from 0 to 600 seconds
Configuration/data access via USB or RS-485 Modbus
Programmable for shifting flow profile distribution
3-year warranty
Benefits:


The first multipoint thermal mass flow meter offering accurate and reliable wet gas flow measurement
Highly competitive with other flow measurement technologies in initial, setup, operation, and maintenance costs
Eliminates compromised flow data by ignoring fogging in the stack
Promotes better combustion monitoring by more accurately tracking the output
Ideal for wet stack, flue gas, and mine ventilation environments
Greenhouse gas emissions can be accurately reported
Reduce over-reporting of emissions caused by condensing moisture
Specifications
Approvals
CE and UKCA Compliance: EMC, LVD, PED, ROHS, and WEEE
EPA Mandatory GHG Certification 40 CFR 98.34(c)(1)
Alarm Output Conformity: NAMUR NE43
EU ATEX for Increased Safety, Ex ec EN 60079-0, EN 60079-7/A1
IEC 61508, SIL 1 via TUV Rheinland
Dry Velocity Accuracy
± (1 % of Reading +20 SFPM)
Electronics Operating Temperature
-40° F to 149° F (-40° C to 65° C)
Options
Communication Protocols: HART (v7 FSK) and PROFIBUS DP
Hardware Accessories: Available Hardware includes Flange Mounting Assemblies, Ball Valves, Conduit Seals, Cable, and Packing Glands
SIL 1 Certification via TUV Rheinland
Process Conditions
Process Pressure Rating: Up to 150 psig (10 BARg)
Process Temperature Rating: -40° F to 257° F (-40° C to 65° C)
Process Conditions: Up to 100 % Relative Humidity
Condensing Gas
Process Temperature Time Constant
8 seconds for Temperature Changes at 6,000 SFPM (Constant Velocity)
Support & Element Components
Sensor Material: C-276 Alloy All-Welded Sensor Construction (Standard)
Sensor Support: 316L Stainless Steel (Standard), Hastelloy C-22® Alloy (Optional)
Sensor Support Diameter: Segment 1 - 1-1/2" Tubing (Standard), Segment 2 - 2-1/2" (Sch.10), Segment 3 - 4" (Sch 10)
Sensor Support Length: Max. Length based on Supported or Self-Supporting Design and the Number of Sensors
Mounting Flange: Raised Face Class 150 ANSI B16.5
3-year Warranty
Velocity Angle Sensitivity
< 2 % per degree angle up to ± 20°
Velocity-Dependent Correction Factors for Flow Rate
Velocity Range
0 to 6,000 SFPM (28 NMPS)
Up to 12,000 SFPM (56 NMPS) available with Reduced Condensate Immunity
Velocity Time Constant
1 second for Velocity Changes at 6,000 SFPM (Constant Temperature)
Condensing Stacks
Stack & Flue Gas
Biogas
Emissions Monitoring
Mine Ventilation
Fan Inlets