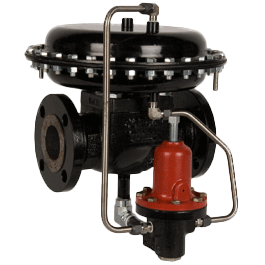 Images are representations only.
Mark 687 Series Piloted Regulator with Class VI Shut-Off
Brand:
Jordan Valve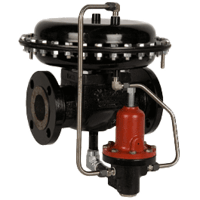 The main valve of the Mark 687 is normally closed. The upstream pressure (PI) enters the main valve body and passes through the piping to the pilot valve. The pilot valve is normally open, allowing the upstream pressure to move through the outlet port of the pilot valve to act on the bottom of the main valve diaphragm. This force pushes the stem upward, opening the main valve.

As the downstream pressure rises to the setpoint, the pilot senses the rising pressure and begins to close. This throttles the flow to the main diaphragm. This pressure on the main valve diaphragm is bled off downstream and the main valve closes. In this way, the Mark 687 modulates between open and closed to maintain control.
Features
Easy to maintain and service — remove bottom entry to access plug. Diaphragm is accessible from the top.
Large effective diaphragm area — for increased accuracy and sensitivity.
Large orifices and body passages — provides high flow capacities.
Tight shutoff — ANSI Class VI.
For applications with differential pressures up to 150 psi (10 bar) — on water, air, oil, gas and chemicals.