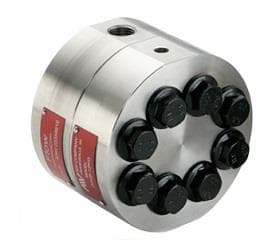 Images are representations only.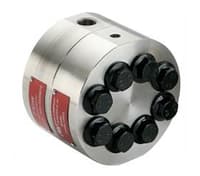 Designed for use in systems rated up to 15,000 psi (1,035 bar), the JVHS gear meters are durable, accurate, and safe in high pressure environments.

The JVHS series all can be hydro tested to 1.5 times the working pressure rating.

The JVHS meters, constructed of 316 stainless steel with Xylan-coated bolts, come equipped with medium-pressure autoclave connections.

These units are for use in high pressure hydraulic and fuel systems; in offshore chemical injection systems including methanol, corrosion and wax inhibitors; or in water treatment chemical-injection systems.
Features
Round (spur) gear, positive displacement flow meters for high pressure applications.
Pressure: up to 1035 bar / 15,000 PSI.
Standard with 3/8" MP autoclave thread.
Available with different process connections on special request.
Available with three different flow ranges.


JVHS-12KG: 0.01 » 3.0 L/min (0.003 » 0.8 GPM).
JVHS-20KG: 0.38 » 7.6 L/min (0.01 » 2.0 GPM).
JVHS-30KG: 0.11 » 26.5 L/min (0.03 » 7.0 GPM).

Outputs: very high resolution pulse output (53,000 / 15,900 / 6,600 pulses / gallon).
Accuracy: ±0.5% over 10:1 turndown with 30cP fluid.
Repeatability: ±0.1%.
Temperature: up to 85°C.
Materials: 316SS (body, gears & ball bearings), PTFE (o-rings) & Xylan coated steel bolts (SS available on request).
Ex models (JVHS-xxKG-EX) also available for hazardous area applications.
Wide range of pick-ups and electronics are available, including batch controllers and totalisers.
Ex models also available.